Online News
Diversity/ Diversidad
Hispanics have become the largest minority: Hispanics account for 14 percent of the population in the United States. The nation's population is 295,734,134. There is 42.7 million Hispanics living in the United States; however, there could be more because I am not including illegal immigrants. Many experts and analyst predict that in 2015 Hispanics will become the majority; they say the Hispanic population will increase to 102.6 million in 2050.
Hispanics are vital in the U.S. economy. Over 1.6 million Hispanics own private businesses generating $222 million in revenue. They are a breed that's hungry for money.
Moreover, there are 7.6 million Hispanics who are eligible to vote and there's an ample amount of Hispanics in Congress representing their states. Overall, the Hispanic population is significant. I believe that it is important that both Americans and African Americans know the difference in the Hispanic community. The United States is packed with immigrants. It will be educational for all of the different cultures to know about others. We might be able to eliminate racism and discrimination because we would be able to understand the differences in the cultures.
See, Hispanics are not all a like. Hispanics are diverse. In fact, Hispanics themselves do not know about other Hispanics because of their differences in their culture.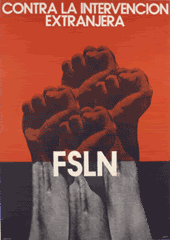 The Nicaraguan socialist group, The Sandinista Front, the group is named after Nicaraguan revolutionary, Augusto Sandino.
On the other side, not only is their culture different but so is their politics. Currently, Latin American is part of a new wave of politics: What I like to call the "leftist wave". This wave is not a communist form of governing, but a revamped type of governing. One distant from such ideologies of say Fidel Castro, who has he's own type of governing, which I like to call, "Castroism". The ideology present in our southern neighbors is more of a socialist movement. This movement has been in that region, but hasn't been fully exposed because many of the people were not contempt or really haven't figured out how to handle such ideology. Now, the leaders known as "Caudillos" have seem to narrowed it down to be affective.
This wave is important because it just doesn't affect the region, but the United States and other countries as well. For example, China, India, and Iran are major players in working deals with the leftist leaders. This is a significant issue to keep a close eye especially for the United States, since it is at war in Iraq and Afghanistan. Who knows, if Al Qaeda has a cell in South America or the crazy Venezuelan president, Hugo Chavez, allows Iran to build a minimal nuclear plant like they desperately want.
Revolutionary Ernesto Che Guevara
Thus, it's important what happens down south especially in the current times we are living in. As a result, I believe that creating a website that tells the real stories of the countries in Latin America with no censoring will inform the masses. It doesn't matter if the countries' media is communist or socialist it will be posted on this site because it is news. Also, the site will allow visitors to express themselves regardless of their ideologies or beliefs.
By designing a blogspot, visitors will be able to express their feelings or doubts on the past or current trend in their country without the fear of being imprisioned or censored like the mainstream media does. It's a chance to say what you want to say with no regrets. All in all, get some of these leaders to answer some of the site visitor's questions. A little feedback from their leaders won't hurt. Again, the site will not lean towards no right, center, or left party. It will give an equal opportunity to all.
Lastly, we will have a two-hour program online that could be seen on your ipod or on the site. In the show, we will be able to show the real truth behind the Hispanic community in the United States and in their native countries. Along with an education on each of the countries. For example, mention the difference between Haiti and Dominican Republican and know their history. Those two countries have a heated rivalry. Sadly, it continues today. Both countries are located in the island of Hispaniola.
Moving along, we might educate many of the youth on the reasoning and purpose of Che Guevara. Many young people wear shirts and caps with his picture, but have no clue on what the man's intentions where. Perhaps, we can get a debate with Cuban exiles and Cubans that live on the island on how they truly feel about Fidel Castro who's ruled for more then four decades.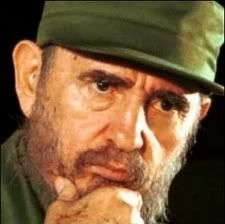 Cuban President, Fidel Castro
This will give a chance to educate the world on a place where Spanish is the common language–aside from other dialects spoken–but different words have different meanings in different countries.
In the entertainment world, different countries have different stars. For example, not all of the Mexican soap operas are shown in the entire South American region. Countries like Brazil, Chile, Argentina, and Columbia to name a few generate their own type of material. So, why not share the soaps with other countries using the web. Brazilians are considered to be one of the arrogant countries as they stick to their own programming. In fact, the majority of Brazilians listen to native musicians and watch native television programming, but have no clue of what others are producing. So, why not open up their minds a little and hit them with something from Argentina? We can translate it from Spanish to Portuguese.

Venezuelan President, Hugo Chavez attacking U.S. president, George W. Bush in his weekly program, "Hola Mr. Presidente".
It's important that are minds expand to know what's going out in other places of the world just in case anything where to occur we know what to expect. For example, I am a strong advocate of Al Jazeera being shown in the United States because if we had their network here, we might be able to understand Muslim mentality. It's time we educate ourselves by telling and describing the differences in cultures including your backyard neighbors and what better way of doing it then with the internet. If this is a Democracy then why are we restrained from saying things you want to. Well, not on this site.
The site can make money by having different advertisement, perforable from Latin America and U.S. companies owned by Hispanics. With a bunch of hits daily, a lot of advertisers would like to be heard on the site. We will create a advertisement rate. As the site grows, we might be able to have correspondants in different countries, who will give us daily briefs on the what's happeing in the country they are reporting from. For now, we will stick to local, until we grow.
One of Latin America's greatest hero was Simon Bolivar. He along with others tried to make every country in that region become independent from The Spanish. He's dream was to one day see Latin America united. The internet and this site can be a first in achieving his goal.
Fidel Castro in one of his greatest falls.